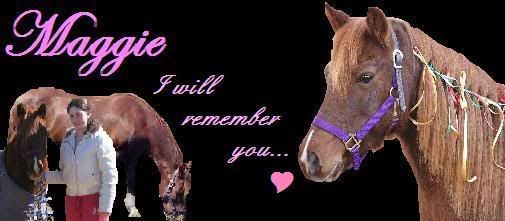 Comments
Jacklyn

@ 2:38pm 02-02-2011, IP: 216.211.75.94

How did you find this website?

YouTube

I can't believe what happened to Maggie. She seems like a wonderful pony. I want to applaud you guys for what your doing in her memory, I think she would be proud of you.
Maia

@ 3:49am 12-19-2010, IP: 173.74.135.5

How did you find this website?

YouTube

Thank you so much for sharing the fact that Days End did this. I mean, just the name, Days End Sounds like a terrible name. Second of all, I ride a 24yr old gelding named Topsider, he has arthridise but rides like a charm, I guess Days End would probally murder him too, they'd say that he, "Was Too Old" Or, "Was Suffering" That's bull. The fact Days End even took Maggie in and then didn't even evaluate, nor, put her up for adoption really shocks me. I mean, if they REALLY needed room, why not send their horses to a no-kill shelter, so they can atleast be PUT UP FOR ADOPTION!! I mean, how in god's name is an animal shelter who doesn't put their animals for adoption even considered a buisness? It's not anything but a Slaughter House if you ask me. I'm completely against 'Kill-Shelters', not to mention Slaughter-Shelters! I say, you need to threaten to shut those cowards down, and perhaps they'll close up their shelter or surrender their horses.
EquineAngels

@ 4:24am 12-14-2010, IP: 96.255.181.114

How did you find this website?

friends

Thank you for sharing your story and for bringing attention to this tragedy. Days End appears to be an example of many "rescues" are needing to be monitored to protect the animals. Have you tried contacting the IRS regarding the abusive practices of Days End? Middleburg Humane is another "rescue" seemingly focused heavily on generating "donations" income and "politics". It is essential that gr**censored** roots efforts like yours continue to stop the abusive efforts of questionable rescues. Thank you again and Maggie's spirit is in our hearts.
charlie

@ 6:21pm 12-12-2010, IP: 74.105.160.55

How did you find this website?

youtube

this is HORRIBLE.rip maggie,java,and marbles!

those people are stupid idiots that dont know wat they are doing.
SUE THEM!
Anna

@ 10:41pm 12-08-2010, IP: 65.13.92.84

How did you find this website?

Youtube

So very sorry about Maggie, she looks beautiful and sweet. My heart goes out to the ones who loved her.
kelsey

@ 7:10pm 12-04-2010, IP: 166.216.194.41

How did you find this website?

youtube

i think thats terrible! no horse or pony should ever be killed if they have a sweet temperment.i have 6 horses and could never think of that happening.im so sorry for your loss and to all of the horses that were treated like this at the rescue RIP
courtnb1234

@ 6:32pm 12-04-2010, IP: 72.25.38.6

How did you find this website?

you tube

i loved you Maggie
Resa

@ 7:40pm 11-13-2010, IP: 72.179.22.146

How did you find this website?

You Tube

I find what Days End Horse Rescue done is complete stupidity, first off in maggie's case, if she was supposively "Dangerous" then my gelding would be way p**censored**ed dangerous and would have been put down right then and there (wich my gelding is a great horse! just needs some training). Now with the older geldings, what's up with that? There was people there who wanted to adopt them, so why not give them a home to live out their days? If they were just too old then what's my mare at 29+ years? Ancient? (my horses were rescued) I'm very sorry to hear about maggie and all the other horses that were euthanized for absolutely no reason at all. R.I.P to those that were..
keris

@ 8:15pm 11-12-2010, IP: 91.106.229.154

How did you find this website?

youtube

just the name "Days End" gives it away. this is horrible. this is soooo sad. its like sank i heard about the RSPCA. about some workers being the sorce of some animal cruelty.
lauren

@ 2:08pm 10-30-2010, IP: 91.105.147.35

How did you find this website?

youtube

arrrrr this is such a sad storry im sooo sorry on your loss we had a horse that died of cowlick it was awful we still cry abount it and she died a mont ago
Willow

@ 7:22pm 10-18-2010, IP: 71.254.201.98

How did you find this website?

Youtube!

This is so sad! We will miss you!
Lucia

@ 2:57pm 09-16-2010, IP: 92.17.174.147

How did you find this website?

You Tube

I think putting a horse down for space is totally disgusting.
My favourite pony in the whole wide world, Mini, is due to be put down on Monday, because my instructor can't handle her and she's scared of my Miss Mini Doodles because she cantered off in the field with her.

I am a teenager and I've taken her from being practically unridable to almost perfectly calm in two years.
Mini's 11 years old. Everyone needs to stop this. I can't stop the killing of my beautiful little girl, but I hope I can stop other ponies receiving the same fate.
taran singh

@ 11:44pm 08-05-2010, IP: 72.68.95.5

How did you find this website?

youtube

i feel sooo bad for those horses.....they look sweet and innocent to me... horses are naturally and instintivly scarred and its not thier fault its in there blood to defend them selves...im sooo sorry for ur loss and hope things turn out well for all the other horses in unstable condtions...is there anything i can do to help end this unfair treatment to these beautiful horses???
Dan Gilmore

@ 9:56am 07-16-2010, IP: 75.89.246.207

How did you find this website?

YouTube

I see stuff like this happen to good horses all the time. Someone doesn't like the horse for some odd reason and the horse suffers from a 'bad reputation'. Someone doesn't like the owner so they start rumors about the horse just to give the horse a bad reputation. Someone gets hurt on a horse (which happens all the time through no fault of the horse) and visions of lawsuits dance in that someone's tiny little pea sized brain - and the horse suffers. As a trainer, one of my specialties is working with 'problem horses' and rescues. My personal experience shows that 99% of the time the problem is with the human not the horse. Sure, I've had my share of broken bones and knocked out teeth over the years, but that's not the horses' fault. All said and done, I've never given up on any horse. RIP Maggie.
kaitlyn

@ 4:35pm 06-30-2010, IP: 24.144.53.228

How did you find this website?

youtube

What kind of idiot can put a horse in BLAME for hurting someone! I don't even think that makes sense at all. I have never seen a horse that wanted to hurt someone, or ever heard of one. I know that maybe an unfit saddle or pinching bridle can hurt a horse and make it buck, but to do a jump and fall off it a WAYYY different story. This outrages me. This shouldn't happen to any living creature in the world, ever. People these days are rediculous and will do anything for a cheap paycheck. RIP MAGGIE
Messages: 31 until 45 of 58.
Number of pages: 4
Newer1 2 [3] 4Older
We don't like censorship, but it is used in this guestbook. Visitors that leave insulting and hurtful messages will be blocked. No exceptions. This website is to remember Maggie & the other unlucky Days End horses.
Thank you for cooperating.
Leave a message