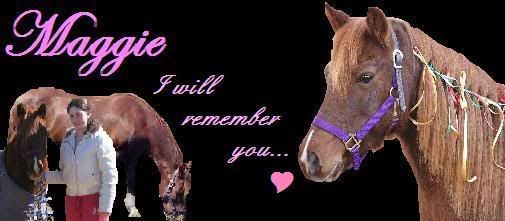 Comments
Suzi

@ 10:42pm 06-15-2010, IP: 122.110.188.184

How did you find this website?

you tube

So very sad.. thats crazy she was blamed and labled as dangerous for a accident. they retarded?
Greetings from Australia.. great but sad site
samantha

@ 3:09pm 06-06-2010, IP: 81.154.25.235

How did you find this website?

youtube

i'm so sorry for you we had to sell my horse she WAS dangerous. I still love her , I cryed for weeks!
it shouldn't of happened to you or maggie but keep your chin up chick!
ashley

@ 9:33pm 05-06-2010, IP: 174.35.201.79

How did you find this website?

youtube

thiss is so sad to have a animal to be tooken away from you when you when it never needed too be, my dog died from old age and i cry all the time about it ...
i wounder how it is for you
im sorry. the horse looked beatiful and calm and easy going i hate the rumors ... and im sorry for all this you went threw
leah

@ 1:49am 03-14-2010, IP: 142.179.13.120

How did you find this website?

youtube

so sad!
Shawna

@ 11:20am 12-16-2009, IP: 75.163.237.103

How did you find this website?

youtube

I am truley sorry to hear about this. I hope they get whats comming to them! Keep up the good work of informing people of what they're doing there. A horse shouldnt have its life taken away so young and for no reason. R.I.P Maggie and others
Kaityyyy

@ 9:02pm 10-17-2009, IP: 68.0.170.169

How did you find this website?

youtube lol

rip maggie. she looked like an amazing pony. days end should be sued for reckless killing and animal abuse !!!
Whiskey's Bud

@ 5:59pm 10-15-2009, IP: 216.211.44.112

How did you find this website?

youtube!!!


i feel for you! i feel so sad that this had to happen to you. i own my own rescue and i cant stand imitators! just know thart those horses are looking down on you from the pasture in heaven!
Lisa Pensinger

@ 12:51pm 10-13-2009, IP: 71.127.2.193

How did you find this website?

you tube

Thank you for starting this web site. People need to be more educated about this subject. I have been following the efforts of the Cloud Foundation as well. Horses are one of the most loving and caring animals on this planet and only want to be loved. I don't own a horse but it is a dream of mine and my husband. Any help I can give such as getting the word out please do not hesistate to ask.
Lisa
MyMozartRox (Lisa)

@ 7:36am 08-07-2009, IP: 58.166.88.247

How did you find this website?

watching utube vids then commenting and then being sent the address

OMG!!! now i know the full story! Why hasn't the USA government or SOMEONE or SOMETHING got involved in this and put DAYS END to and end them selves. They should have been stopped if they keep putting horses DOWN!! UGH. some people! they should be STOPPED! somehow. think. tell more ppl that can can STOP THEM!!!

e-mail me ASAP!!! okay. thanks
Taylor Simpson

@ 9:03pm 06-25-2009, IP: 24.35.34.174

How did you find this website?

Juli sent it to me

Thank you Juli for making this website. You did a great job on it. Sorry I have not been able to contribute a story. It has been hectic the last couple months. Thanks again for all your help. RIP Misty Mazey/Maggie
Jan

@ 4:03pm 06-18-2009, IP: 68.55.60.206

How did you find this website?

Juli

This should not have happened to you, Maggie. Your death caused so much sorrow to so many people. What a needless tragedy. I personally spoke to the Chairman of the Chincoteague Pony Committee. Had you met the criteria, you could have gone back to Chincoteague. Guess we will never know, as you were not given that chance. You didn't need to go back to Chincoteague. You needed one person who would take the time to gain your trust. All you needed was time and patience. Days End gave you neither. Hopefully, your death....Mountain, Gatsby and the many others will not have been in vain. RIP sweet Maggie!
mikaela

@ 11:36am 01-24-2009, IP: 98.117.193.208

How did you find this website?

taylor told me

awwwww its so cute! nice job
Hannah

@ 11:46am 01-19-2009, IP: 68.55.60.206

How did you find this website?

Friend

I've donated to Days End for a while. I'm 14 too, so I know how Maggie's adopter feels. That is so sad, and I cannot believe how stupid and naive I was, listening to everything that came out of that rescue's mouth. My DEEPEST CONDOLENCES to Maggie's adopters, I am SO incredibly sorry about what happened. I only wish I had found this out sooner!! I love this website and I will p**censored** it on. Right after I leave a message on the Days End's guestbook!!

Please send me frequent updates! I am joining the Maggie mailing list!
Messages: 46 until 60 of 58.
Number of pages: 4
Newer1 2 3 [4]
We don't like censorship, but it is used in this guestbook. Visitors that leave insulting and hurtful messages will be blocked. No exceptions. This website is to remember Maggie & the other unlucky Days End horses.
Thank you for cooperating.
Leave a message